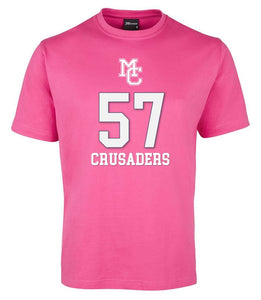 57 MC Pink Out Tee (Pre-Order)
Our football team is having a pink out for the September 29th football game. In honor of the year our school started, this "57" t-shirt will be sold until Sept 8th. We will not except late orders. All students who purchase a t-shirt will be able to wear it to school on September 29th, and will gain free access to the Sept 29th football game for our pink out!
**Any parent that wishes to purchase this t-shirt will also gain free access to the football game on September 29th. 
This item is due in Sept 25th from our vendor. Store pickup at MC is preferred when ordering.